Need a practical electric car?



1,000 mile range

on a single charge
A battery that will

never

need replacing?
High speed, motorway cruising.
Cost the same as the fossil-fuel equivalent.

Think it can't be done?
Read on.


Have a look around the car and see the technology in the
virtual showcase
See the
patent motor, controller and hybrid technology
which will make the Mass-EV unique.
See animations of the
car design and the engineering
.
See the
project progress
including full details of the mechanics, electronics and software.
See also full details of the controllers and motors of the Toyota Prius
(including
exclusive previously unreleased Prius specifications
) in the
R & D program
.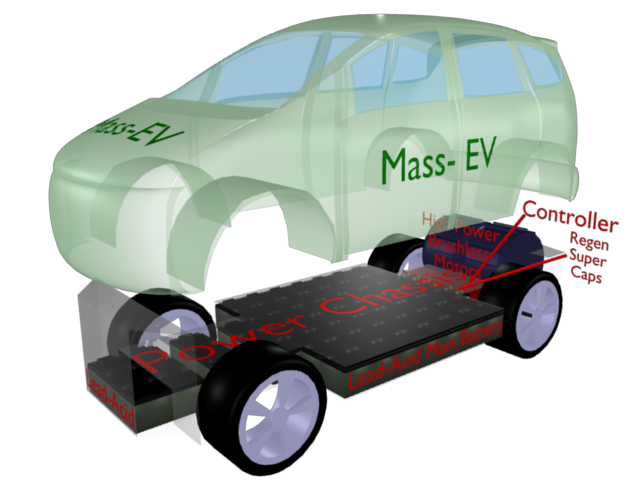 Go to
Community/Developers
site
News:
Today a chassis was obtained for prototyping the Mass-EV 120kWh powertrain. This vehicle (another converted van) will be converted and range tested after Easter this year.
Today a Suzuki Bandit was obtained along with some spares and chasses. This will have the engine, gearbox and exhaust removed, and prepared to receive the 10kW motor, controller and 48v 85Ah AGM battery. The bike is expected to have a range of about 50 miles and a top speed of around 70mph. This is a first step in prototyping a commuter motorcyle.
Keys have been obtained for the new workshop in Loverock Road, Reading. This means work can begin on the Mass-EV prototype. Also as a low-cost experiment an electric motorcycle will be built. This will start life as a converted Suzuki Bandit which will be sourced and converted.
As investment continues, this week a new facility has been obtained for Turbo Electric and
NC Engineering
to build the 120kWh advanced Lead-Acid prototype design. Keys will be obtained in January 2018 to start the build February. Initial target is for a showcase model for the London motor show and low-volume, mass-production version to develop the market.
Discussions today with
NC Engineering
resulted in a plan to start work on the build next week. This is going to be the 100 battery chassis
(120kWh)
a truly huge pack which means vehicle range will be immense! Predicted range is 300-400 miles at motorway speeds (70-80mph) and a practical range up to
1,000 miles
at town speeds (30-40mph). Also as the battery is so high capacity this means it will not need replacing for at least
350,000 miles
(beyond the life of the car). The price is still predicted to be low (£20,000) due to it's low cost advanced lead-acid battery technology.
Today Turbo Electric is working with
NC Engineering
to build a new prototype. This will be a long range vehicle (400 miles per charge) and has a target retail price of around £20,000. Work is predicted to start in September with the chassis. This is in preparation for the British Motor Show next year where the vehicle should be on a stand for all to see.
Older news..
More achievements are available on the
project page